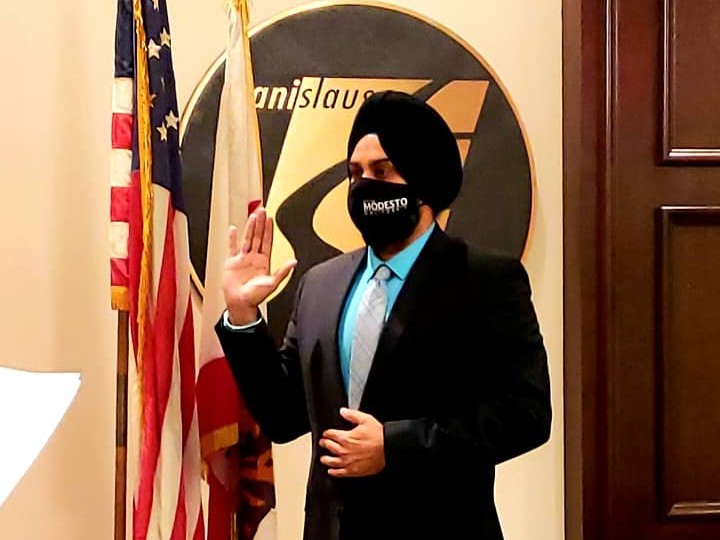 In a small ceremony officiated by the Honorable Judge Sonny Sandhu, Manmeet "Mani" Grewal was sworn into the vacant District 4 seat left by Supervisor Tom Berryhill.
The Stanislaus County Board of Supervisors hosted a Swearing-In Ceremony for Manmeet "Mani" Grewal on Wednesday, December 2, 2020 at 4:00 p.m. The Oath of Office was administered in the Chambers located in the Basement of the City-County Administration Building at 1010 10th Street, Modesto, CA. The Honorable Judge Sonny Sandhu officiated the ceremony.
Governor Newsom appointed Grewal to Supervisor for the 4th District of the Stanislaus County Board of Supervisors on November 21, 2020 to fill the vacant seat left by Tom Berryhill who passed away peacefully at his home on August 29, 2020. Board of Supervisors Chairwoman, Kristin Olsen, welcomed family and staff. "He is a committed public servant, dedicated to working collaboratively with others to improve the quality for all Stanislaus County residents," said Olsen upon hearing of the appointment. "Mani is also a friend, and I'm so happy we get to serve as Board colleagues as I end my term and he begins his."
"I think the Governor made a very good appointment. I've known Mani for many years, and he understands local government and the importance of business and jobs. I am excited and look forward to working with him," Supervisor Vito Chiesa added. Grewal was born and raised in Modesto. After attending Modesto Junior College, he obtained an Associate Degree in Accounting and a Bachelor of Science degree in Business Administration. He also completed the Management Program at the University of Pacific Eberhardt School of Business. He and his wife, Jas, are raising their four children in Modesto. Grewal has been a member of the Modesto City Council since 2015. He has served as a member of the Modesto Planning Commission, Stanislaus Council of Governments Policy Board, California State University of Stanislaus Foundation Board, the Stanislaus County Interfaith Council, and the Memorial Hospital Foundation.
Read More