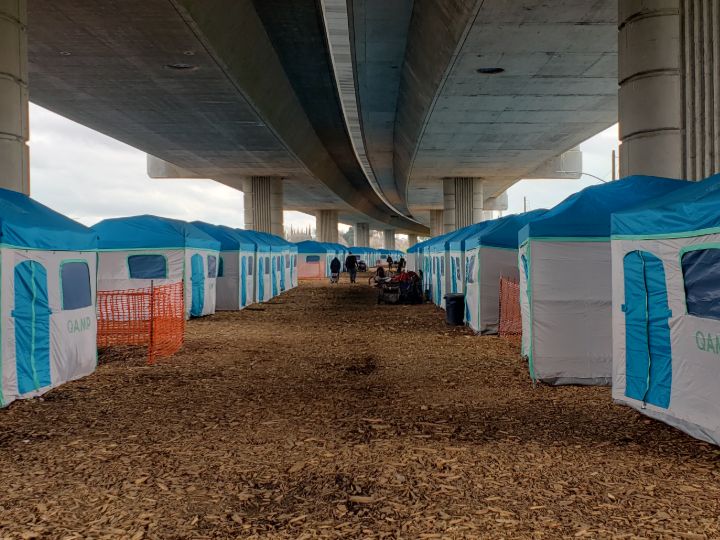 The Modesto Outdoor Emergency Shelter will be closing by early December to make way for future developments of the Tuolumne River Regional Park.
The Modesto Outdoor Emergency Shelter (MOES) under the Ninth Street Bridge was always intended to be a temporary solution to the City's urgent homeless crisis, and soon it will close to make way for future developments of the Tuolumne River Regional Park.
The County, the City, the Stanislaus Regional Housing Authority, and many other community partners are working together to provide substantial new housing and shelter opportunities in our county.
In addition to the County's new Access Center and Emergency Shelter opening at the Salvation Army's campus this month, a new Stanislaus County Community Services Agency Family Housing unit opened on South 9th Street on November 15th. Ongoing efforts include the Empire Migrant Center, a temporary housing opportunity, and the Kansas House Project, which is the conversion of an existing motel into permanent supportive housing. These combined housing opportunities will produce enough beds to accommodate roughly 550 homeless individuals by February 2020.
Community Services Agency staff are working to transition our local unsheltered population into the appropriate housing or shelter option that best meets their needs.
Accountability will be key!
The Modesto Police Department is preparing for a potential influx of vagrancy-related issues and illegal camps in the downtown Modesto and surrounding areas as a result of MOES closing.
In order to continue to sustain the vibrancy and economic revitalization of the downtown area, the Modesto Police Department will be deploying the Crime Reduction Team, Homeless Engagement And Response Team, Crime Prevention Unit, and Bike and Equestrian Unit Officers to proactively address any vagrancy issues or other criminal behavior.
If you feel unsafe because of an act of vagrancy, call the police department's non-emergency line at (209) 552-2470. For emergencies, call 9-1-1.
For questions or concerns, in Modesto, email Modesto Neighborhoods, Inc. at moc.liamg@sdoohrobhgienotsedom
Read More