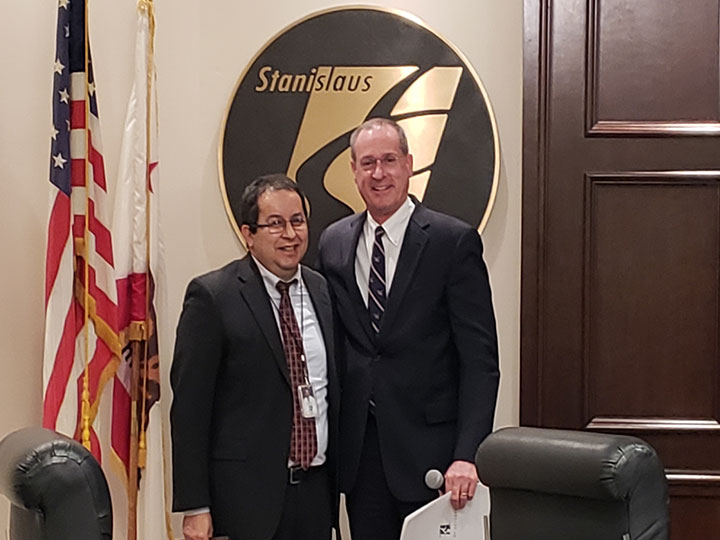 Celebrating Miguel Galvez, our mentor of the year who was honored at the Board of Supervisors meeting on January 15. Here is a synopsis of his acceptance presentation.
At its core, mentoring recognizes that every person has DIGNITY, a right to be valued and respected for their own sake. As mentors, we invest ourselves in the well-being and future of our mentees. We provide insight and understanding. Having a mentor is like having a friend that helps you to see the richness that is within you – a quality that you cannot yet see in yourself.
It does not stop there, every person has the potential, and often the desire, to be something more than they are – they just need a trusted guide who provides impartial advice and encouragement. When I first meet a mentee, we talk a little bit about ourselves, including our families. For example, I have heard from a previous mentee: "I have three mothers, 15 brothers and sisters and my dad lives with his girlfriend." So I said "Well, who takes care of you at home?" "My mom works, so my grandmother takes care of me." How often do you see your dad? "Oh, he comes to see me on my birthday."
Most of the mentees that participate in this program come from a place of poverty. Financial poverty. Emotional poverty. A lack of safe living conditions, where the school is the only safe and stable environment. Some of these kids even experience a poverty of hope. Most are just trying to survive each day, the best way they know how…In today's society, we are valued - not based on our dignity and our potential, but on our circumstances, our appearance: the clothes and shoes we wear, the type of home we live in, the car that we drive, the material goods we have, our presumed status in society. Even at school, children can be cruel and merciless.
They may be called names, be left out, picked last for a team, feel unloved, or lost. Those are lies that they are told. They just need to hear a different perspective - One that has their best interest at heart. Mentors have a unique opportunity: to leverage their skills and experience, to shed light - where there hasn't been enough to give and invest a portion of their life to instill different insight into who they truly are and can be. Mentoring requires you to be truly present, lean-in, look, listen, bring light, teach, lead the mentee in discovering that they not only have value, but can bring value to others. And that they are loved for who they are. I recently heard a quote that best captures the role of a mentor to me.
"The older a teacher gets, the more they stop advancing their own career and begin celebrating the accomplishments of their students." Indeed, it is a pleasure to be here, not to hear about, what, we the mentors do and accomplish, but to value and reflect on what our mentees can and do accomplish. It is a wonder-filled journey of discovery. I invite you to come along.
Anyone interested in joining the County mentoring program can learn more by calling Norma Baker at 209.525.4357.
Read More