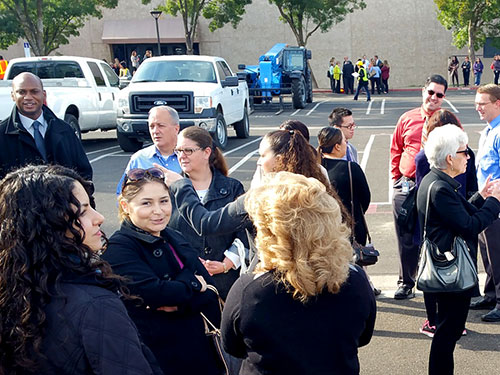 Employees from city/county building evacuate as part of ongoing training for emergency situations.
On the morning of November 5, 2015, county and city employees at the Tenth Street Place building in Modesto participated in a drill to safely vacate the building in case of an actual emergency. Staff receive periodic training as to how to evacuate and where to relocate once an evacuation order is given.
Emergency drills may seem like a nuisance to any busy business, but they are vital to emergency preparedness. Running a drill is reliant on several factors: building types, occupancy, identified risks, and the kind of emergencies being tested. Communication plays a big role in all emergency plans.
In a recent email to all building staff, Modesto City Manager Jim Holgersson and County Chief Executive Officer Stan Risen emphasized the importance of evacuation and safety drills. "Real emergencies don't come with advanced warnings," they stated. "Your safety depends on you being ready to act."
Visitors of the building are evacuated during exercises as well, with their safety a top priority. Designated building employees act as evacuation wardens to help direct employees and visitors from the building to safe locations and ensure that all floors are clear.
Story by Evelyne Konedeng
Read More