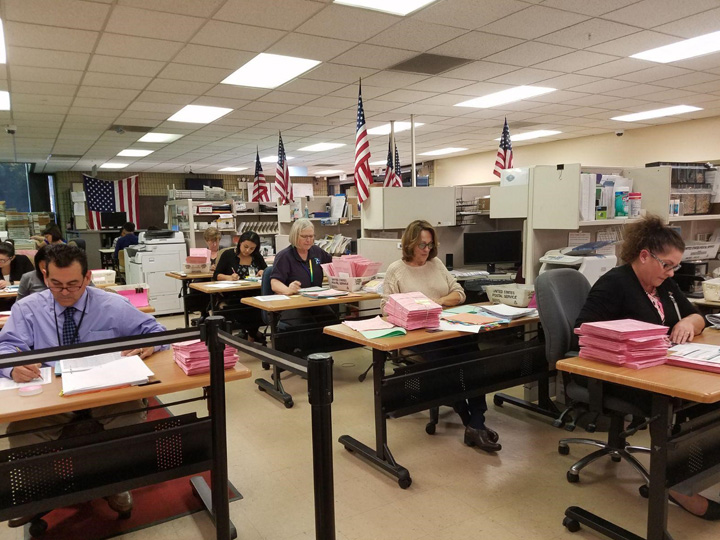 This week the Stanislaus County Registrar of Voters continued with the canvass process of the General Election.
Over 650 volunteer election officers worked to support this General Election. There were also 23 adopt-a-poll volunteer organizations 88 student poll workers and 14 field inspectors supporting this election at the polls. Preparation for the election officer stipend process has begun.
Reconciliation audit process on each of the 141 polling site rosters and materials continued today and is 50% complete. Today the office began work on a 1% hand tally of the vote which will continue until completed. Damaged ballots have been organized and prepared to be duplicated and the duplication process of damaged, military and overseas ballots has begun.
Approximately 11,000 provisional ballots and several thousand military, damaged, 7-day absentee and reconciliation ballots remain to be reviewed and processed before they are ultimately counted. Provisional ballots are voted at the polls when a voter's registration is in question, or when our records indicate the voter has already sent in a vote by mail ballot. Provisionally voted ballots are sealed in special envelopes at the polls and must be individually researched and verified at the ROV's Office before ballots are counted or rejected in accordance with election laws.
The canvass will continue until complete. The office will be closed Thurs.-Fri. Nov. 22-23, 2018 in observance of the Thanksgiving Day holiday and the canvass will re-commence on Mon. Nov. 26th. California law requires certification of this election to be on or before Thurs. Dec. 6, 2018, which is 30-days following Election Day.
More information regarding the November 6, 2018 General Election is available on the website at Stanvote or by contacting the Elections Office at 209-525-5200.
Read More