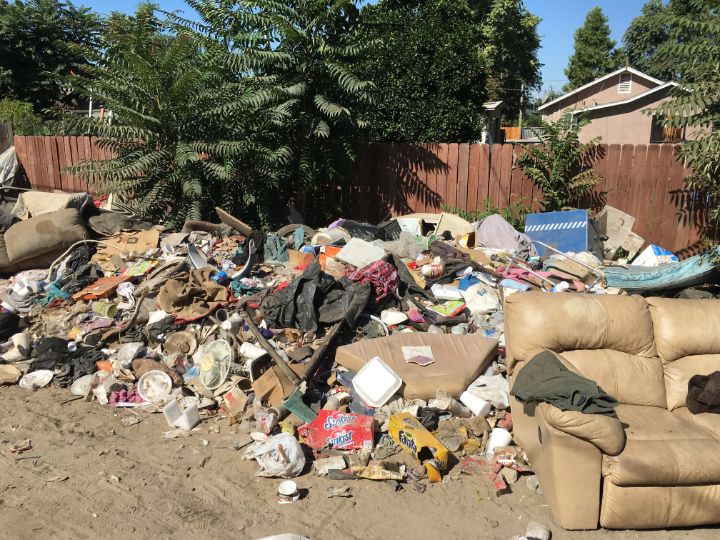 Raising awareness of how we can Reduce, Reuse and Recycle more of our waste can directly benefit all of us by creating a cleaner and safer community.
Last spring, the Stanislaus County Board of Supervisors allocated $100,000 towards a Community Cleanup pilot program targeted at eradicating illegal dump sites in the alleys and other unincorporated areas of our community. Through this program, County staff worked with community volunteers to organize several community-led cleanups.
These cleanups have been transformative. Since June 2019, more than 60.85 tons of trash has been cleared from alleys. Results have been positive, and residents feel increased sense of civic pride about their neighborhoods and open spaces. This pilot program will continue offering localized cleanup efforts upon request, based on a first-come first-served basis, through June 2020.
Raising awareness of how we can Reduce, Reuse and Recycle more of our waste can directly benefit all of us by creating a cleaner and safer community. Various efforts are pending and underway to curb dumping and inform the public of opportunities to be proactive in keeping our community clean.
Waste collects waste. If you come across trash in your neighborhood, please take action and clean it up promptly in order to prevent blight. Stanislaus County and the City of Modesto are working together to beautify our community and would like to make residents aware of ways to discard or recycle waste materials.
Toxics, Paint, and Oil Disposal
The Household Hazardous Waste Collection Facility in Modesto is free for Stanislaus County residents and open to the public every Friday and Saturday morning. Toxic materials including E-Waste, medical, yard, automotive, and house/garage waste can be discarded there.
California has established the California Paint Take-Back and Recycling Program to reduce the amount of paint illegally dumped. Large businesses that sell paint to consumers are required to take back and correctly dispose of unused paint. Kelly Moore, and Sherwin Williams are drop off sites within Stanislaus County.
Used Oil can be dropped off at Certified Collection Centers, which include most auto shops in Stanislaus County. Check with an auto shop or oil change business near you to make sure they will receive your oil. Never throw oil or chemicals away. To report hazardous materials or potentially toxic chemical spills, please call 209-525-6727.
Recycling
Collecting your bottles and cans and recycling them is an easy way to minimize waste and do your part. California Refund Value(CRV) is returned to consumers for recycling eligible aluminum, plastic, glass and Bi-metal containers at certified recycling centers. Centers across Stanislaus County vary in what items they accept/do not accept. Many County residents can dispose of recyclable materials using the specialty bins provided in some cities for curbside pickup. Please use these bins whenever possible and check with your garbage service provider if you are unsure of proper items for disposal.
Bulky Item Collection
Residents can pre-arrange to have bulky items picked up at their residence. All County garbage service providers offer two large item pick-ups for free each year to customers. We recommend taking advantage of this service to dispose of items that cannot fit in your garbage bin. Appointments can be made by contacting your trash company and should be made at least two weeks prior to pick up.
The items that can be collected include large appliances, water heaters, mattresses, bicycles and other large household objects that otherwise would not fit into residential garbage containers. Glass, construction materials and tires are not accepted.
Tire Disposal
The City of Modesto currently has a grant to provide Waste Tire Recycling every other month in 2020. This is only eligible to Modesto residents. However, the Stanislaus County Department of Environmental Resources holds regular tire amnesty days, providing residents an opportunity to dispose of automobile tires also. To take advantage of a tire disposal program, resident must request a voucher for free drop-off at a transfer station. City residents should call 209-577-5495 for a voucher. Any unincorporated residents can call (209) 525-6700 and request a voucher.
Christmas Tree Disposal
The City of Modesto encourages residents to dispose of Christmas trees by checking the green waste recycling schedule online. The waste hauling companies that service the county unincorporated areas each have a Christmas tree pick up program in place. To find out more information about this program, residents are encouraged to contact their hauler directly. Another disposal option is for the resident to self-haul their tree to a nearby transfer station (note: dump fee is required).
Donation Centers
Don't forget about nonprofit organizations that accept donations. Unwanted household items can be dropped off at many donation centers in Stanislaus County. Goodwill, Hope Chest Thrift Store, and The Salvation Army are just a few. Donation center policies regarding what is accepted varies however. Residents should call ahead to ensure the donation center will accepts your cast off items.
To find out more about local recycling and waste disposal options, call the City of Modesto at 209-577-5495 or in the County, call 525-6700 and ask for recycling staff. Or visit online at modestogov.com or StanCounty.com
Read More