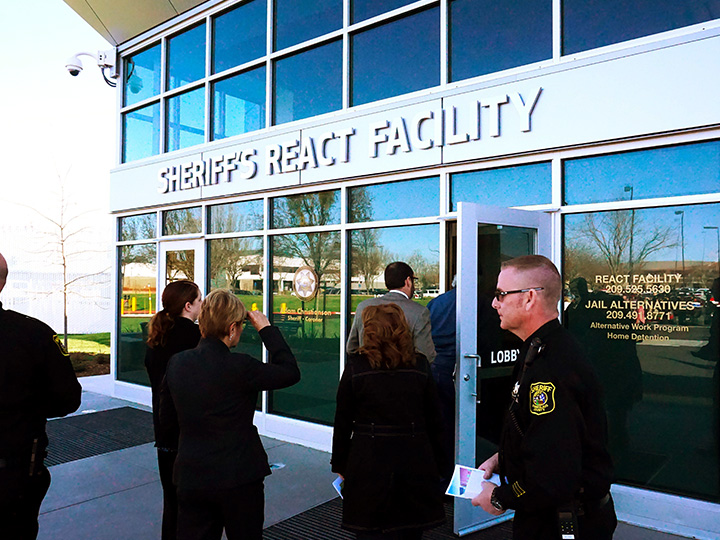 The REACT (Re-Entry and Enhanced Alternatives to Custody Training) Center
This innovative, programs-based detention facility is part of the Stanislaus County Public Safety Center. The REACT (Re-Entry and Enhanced Alternatives to Custody Training) Center was built to provide transitional housing and program opportunities to incarcerated adults. This facility allows the County to close the antiquated downtown Men's Jail, with the exception of Court holding space.
In October 2013, Stanislaus County applied for $40 million in State funding through the Adult Local Criminal Justice Facilities Construction Financing Program under Senate Bill 1022 for this project. Stanislaus County was originally denied funding but appealed that decision and was granted full funding of $40 million in March 2014. The County-required match of $4.445 million brought the total project budget to $44,445,000. This project was completed on time and significantly under budget.
The REACT facility has 288 inmate beds which include four Transitional Housing Units at 48 beds each and three minimum Housing Units at 32 beds each...Providing more secure housing space for incarcerated persons, availability and access to education, counseling and viable programs are the key features of this new facility slated to open for public safety use in May. REACT is intended to reduce the tragic cycle of recidivism by closing the gaps between incarcerations and provide preparedness for release and overall rehabilitation.
Special thanks to the bridging architectural team of HOK and LDA Partners and constructed by the design-build team of Lionakis and Roebbelen contractors.
Read More