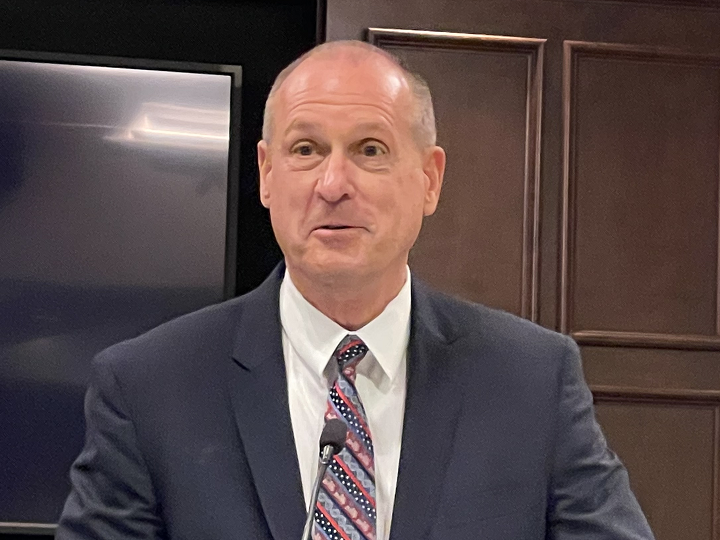 Resiliency and the courage to move forward for a better future – these were the themes of the 2022 State of the County address delivered by Board Chairman Terry Withrow on February 15, 2022.
The speech, presented during the Board of Supervisors 6:30 pm meeting, highlighted the accomplishments of the past year as Stanislaus County endured a second year of the COVID-19 pandemic.
Speaking before an audience inside board chambers, Chair Withrow acknowledged the economic impact of the pandemic on Stanislaus County and its residents. He thanked the county workforce for their flexibility and nimbleness in meeting the moment continuing to provide important services to the community.
He also thanked county law enforcement, health care workers, and health services leadership for going beyond the call of duty to serve Stanislaus County during the pandemic.
"I couldn't be prouder of how Stanislaus County government has responded during these trying times," he stated.
During the speech, Chair Withrow described the state of the county as the strongest it's ever been. He noted how COVID-19 funds were spent during the pandemic. For example, the county distributed $15 million in direct cash assistance to nine incorporated cities, an infusion of cash critical to maintaining core services when cities were struggling in the early days of the pandemic.
He also highlighted accomplishments, including restoring the public safety budget to reopen sheriff substations throughout the county. The substation in Salida is expected to open in mid-April. The openings of the remodeled Turlock Library and the newly constructed Empire Library were among the other achievements brought up during the address.
In addition, Chair Withrow mentioned projects to address homelessness, such as the opening of a low-barrier shelter with 182 beds and the opening of Kansas House, a converted hotel housing up to 225 individuals as an important link to transitional housing.
He also shared a success story from the public defender's office and read a letter from a client who changed his life after receiving case management, counseling, and peer support.
Moving forward out of the pandemic, Chair Withrow asked the public for grace and understanding.
"I truly believe that God puts us on this planet to make it a better place. The last couple of years have tested all of our resolves and taken us off our mission course. Life is to be lived, not just survived. We cannot take care and improve the lives of others in need, if we are solely concerned about our own well-being."
He continued, "Let's reduce the use of the words I, my, and me and instead get back to more of us, our, and we."
View the State of the County Address
Read the State of the County transcript
Youtube hosted video with CC and Translation support
Read More