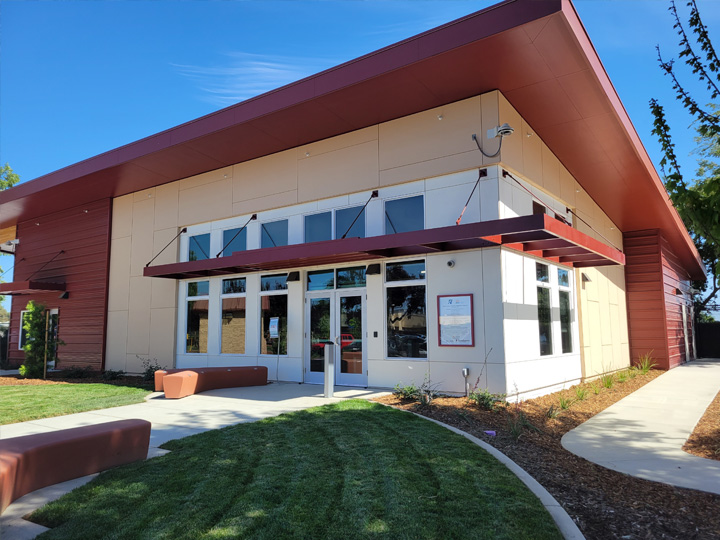 A dedication ceremony was held on June 8th to celebrate the completion of the new Empire Library.
The Stanislaus County Board of Supervisors announced the successful completion of the new Empire Library on Tuesday, June 8, at an inspiring dedication ceremony and celebration of a new, modern, safe library for the community of Empire. Special recognition was given to Bob Dittman, retired Empire school administrator, and his wife Jane, for whom the children's area of the library is named. The Empire Community Hall Association also was thanked for making the project possible with a generous donation of property. A recording of the event is available at www.stanislauslibrary.org.
Doors opened Wednesday, June 9, with some eagerly waiting young customers among the first to explore the new space. At 4,270 square feet, the new facility is twice the size of the former location on South Abbie, allowing for 50% more Spanish/bilingual children's books, and an increase of 20-25% in other print collections.
Located at 98 I Street, the new library is adjacent to the Empire Regional Water Safety Training Center/Pool. It features warm and inviting spaces for children, teens and adults, and incorporates a community room that opens to a covered outdoor patio for library programs and community events. A sheriff's substation will be located in the building as well.
The new facility was designed and constructed by LDA Architects, and Roebbelen Contractors, Dewberry Architects. The project was completed on time and under budget!
The Empire Library is open 12 to 6 p.m, Tuesday through Thursday, and 11 a.m. to 5 p.m. Friday and Saturday.
For more information, visit www.stanislauslibrary.org or call 209-524-5505.
Read More