District Attorney's Office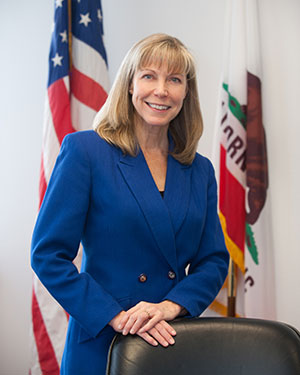 Birgit Fladager
District Attorney
Birgit Fladager received her law degree from the University of the Pacific's McGeorge School of Law in Sacramento. She has been a prosecutor in the Stanislaus County District Attorney's Office since 1990. Prior to joining the office, she served on active duty with the United States Navy from 1986 to 1990. After attending Officer Indoctrination School in Newport, Rhode Island in 1986, and completing Naval Justice School in early 1987, she was assigned as an Assistant Staff Judge Advocate at Commander, Naval Base San Diego where she served two years. She was then detailed as a Court-Martial prosecutor and as Assistant Officer-in-Charge of the Legal Service Office at the North Island Naval Air Station (San Diego). She prosecuted courts-martial for military offenses, such as desertion, and general criminal offenses, including child abuse and attempted murder.
Ms. Fladager's assignments within the Stanislaus County District Attorney's Office have included the Crimes Against Children/Sexual Assault Unit, the Stanislaus Drug Enforcement Agency and Felony Trial Team. She was the first Deputy District Attorney to lead the Domestic Violence Unit. She was promoted to Chief Deputy in 1999. In that capacity, she supervised felony trial deputies and was responsible for the homicide on-call team.
Ms. Fladager was elected District Attorney in June 2006 and was subsequently appointed as District Attorney on July 11, 2006 to fill the vacancy created by the retirement of former District Attorney Jim Brazelton. She frequently serves as an instructor in the areas of Trial Advocacy and Dealing with the Media for the California District Attorneys Association and the National District Attorneys Association.