Veterans Treatment Court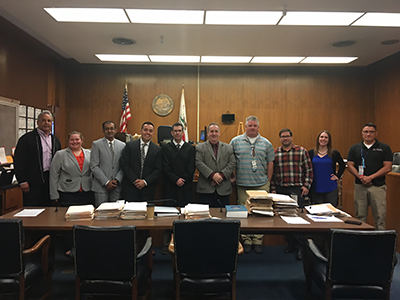 The mission of the Stanislaus County Veterans Treatment Court is to provide an inter-agency collaborative, non-adversarial therapeutic justice program for Veterans in the criminal justice system who suffer from Post-Traumatic Stress (PTS), Traumatic Brain Injury (TBI), Military Sexual Trauma (MST), substance abuse, or other psychological symptoms as a result of having served.
Veterans Treatment Court targets the root causes of veterans' criminal behavior. The goal of these courts is to resolve criminal cases through treatment and support. In this court, veterans take part in a program tailored to address their needs. As part of the program, participants meet frequently with a judicial officer, other veterans, treatment providers, mentors and support them.
The Stanislaus County Public Defender's Office took an active role in the establishment of the Veterans Treatment Court in Stanislaus County. Since the court's inception we helped numerous veterans get critical treatment and support.
If you feel your case qualifies for Veterans Treatment Court talk to your attorney so you can be assessed.