Annual Recycling Poster Contest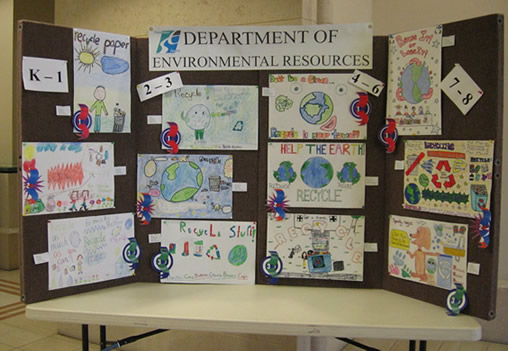 The Stanislaus County Department of Environmental resources along with Stanislaus County Office of Education sponsored a Recycling Poster Contest for the kindergarten through eighth grade students in 34 schools in the County.
The contest divisions included K-1, 2-3, 4-6, 7-8 with a first, second, third place winner in each. Each teacher picked 5 posters from their class to submit for the contest. Posters were judged equally on creativity, design, slogan, artwork and overall effectiveness of the recycling message. The 12 winning posters will be used in a 2007 calendar promoting recycling.
An awards ceremony was held May 3, 2006 at Stanislaus County Office of Education where the winning posters where displayed. Winners showed up with parents, brothers, sisters, grandparents and friends to be recognized for their creative achievement. After the ceremony many winners took the opportunity to pose for pictures in front of their poster and have some refreshments.