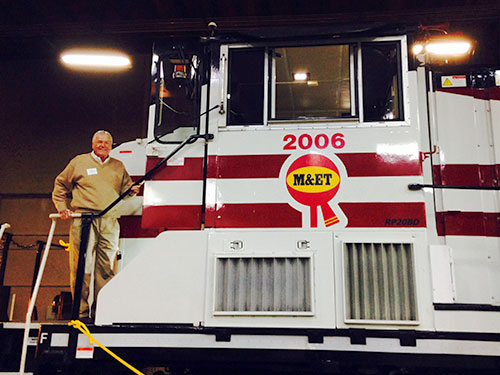 Manufacturers Council of the Central Valley Factory Tour
On November 5, 2015 Frito Lay and Del Monte Foods facilities in Modesto opened their doors to showcase the potential of modern manufacturing and to foster interest in manufacturing careers.
Supervisor Monteith (pictured above) stands on a working Modesto & Empire Traction Company (M&ET) GenSet locomotive that has been in service since February 2012. M&ET is the greenest railroad in all of the United States.
"Manufacturers are constantly working and improving the economy which creates more jobs. More jobs mean a better quality of life for residents in Stanislaus County," stated Supervisor Monteith.
A strong local economy is a priority for the Stanislaus County Board of Supervisors. In this area alone manufacturing companies are responsible for 60,000 high-paying jobs and $30 billion in direct economic output.