Fink Road Landfill Only Visa & Mastercard Accepted At This Time.
Fink Road Sanitary Landfill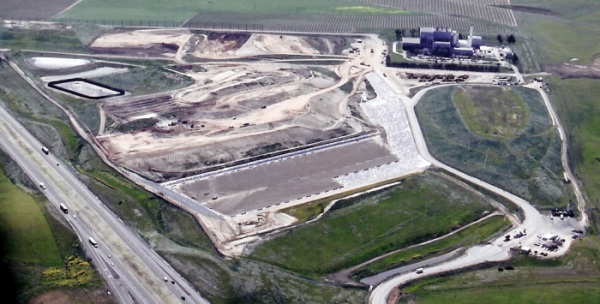 4000 Fink Road
P.O. Box 86
Crows Landing, California 95313
Main: (209) 837-4800
Fax: (209) 837-4802

---
The Fink Road Sanitary Landfill is owned by Stanislaus County and is operated by the Department of Environmental Resources. The Landfill has been providing municipal solid waste services to Ceres, Hughson, Modesto, Newman, Oakdale, Patterson, Riverbank, Turlock, Waterford, and the unincorporated areas of Stanislaus County since its opening in 1973. It is open to all private citizens, businesses, school districts and local government agencies.
Landfill vs. Dump
A modern landfill is a site engineered to contain solid waste and prevent contamination of air and groundwater. A garbage dump is an unmanaged pile of refuse without control of environmental impacts or scavengers.
The Fink Road Sanitary Landfill is a Class III landfill for the disposal of nonhazardous municipal solid waste.
Hours:
8:00 a.m. - 4:00 p.m., Monday through Saturday
We are closed on: All Sundays, July 4th, Thanksgiving Day, Christmas Day, New Year's Day, and after 12:00pm on Christmas Eve
Uncovered/Unsecured loads
Under California law, all loads arriving at the landfill must be covered/secured. In addition, effective September 1, 2019, general public customers who arrive with loads that are uncovered/unsecured will be charged double the disposal fee or given the option to purchase an 8' X 10' tarp for future use.
Uncovered/unsecured commercial loads will be charged $100.
Accepted Waste
The landfill accepts most industrial, commercial, and residential waste, including:
Household and commercial garbage
Construction debris
Roofing materials
Non-friable Asbestos*
Treated Wood Waste
Animal remains
Concrete / inert materials
* Taken only with approval letter from the County's Department of Environmental Resources and accepted only Tuesday – Friday from 9:00 a.m. to 2:00 p.m.
Some materials have separate environmental requirements or pricing. You must notify the attendant if you are unloading:
Televisions, computers, or electronics (No fee. Call for details.)
Appliances (washing machines, dryers, refrigerators, etc.)
Mattresses
Tires
Large and/or bulky items or waste that requires special handling (Must call ahead to arrange for these items)
The landfill does not accept:
Car bodies
Septic tank waste
Liquid waste (including but not limited to sludge, paints, thinners, and used oils)*
Cannery waste
Closed containers
Household batteries (such as AAA, AA, C or D cells)*
Car batteries*
Fluorescent light bulbs*
* Many of these items not accepted at the landfill may be disposed of at a Household Hazardous Waste collection center or mobile event.
Rules
Safety First - Signs are posted and rules are strictly enforced.
For your safety and ours, keep all children and pets in your vehicle. The landfill is considered to be a construction site, and large trucks and heavy equipment move all over the area.
Do not travel outside the area designated for unloading your vehicle. Please be aware of your surroundings.
While unloading, do not throw objects from your vehicle.
Do not back up your vehicle and slam your brakes to dislodge items. If special handling is required, please call ahead to make arrangements.
Unacceptable and/or hazardous wastes cannot be accepted at the landfill. Most Stanislaus County communities have a designated area for these materials. Please call ahead or ask the scale house attendant for information on disposing of these.
All California State vehicle codes are strictly enforced within the landfill.
All loads shall be covered. This is the law and helps keep our roads clear of debris.
Salvaging is strictly prohibited.
Unauthorized areas are strictly off-limits.