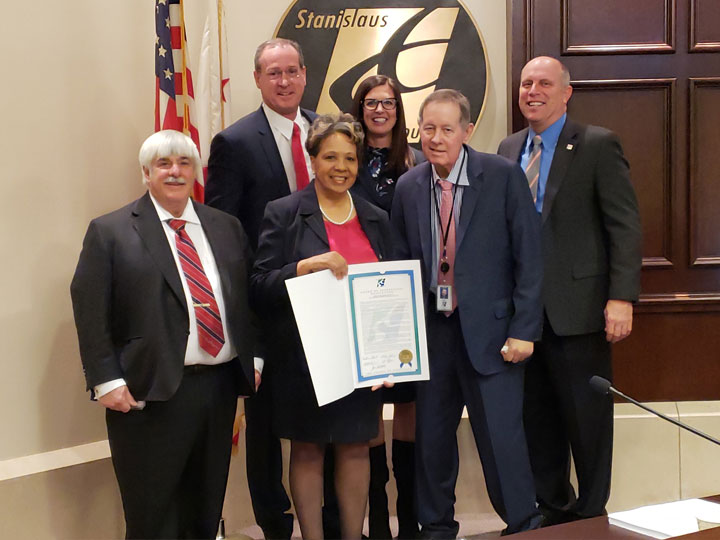 Wendy Byrd of the NAACP spoke about history and equity, representing the African American community on Feb 5.
The Stanislaus County Board of Supervisors proclaimed February Black History Month in the County, honoring this time to learn about, recognize, and celebrate the achievements of African-American men and women throughout history in America. The origins of Black History Month can be traced to the scholar Carter G. Woodson, who in 1926 conceived of a yearly celebration to help rectify the omission of African Americans from history books. The story of America cannot be told without including the contributions and places where African Americans have made history.
The Association for the Study of African American Life & History (ASALH) has selected Black Migrations as the theme for 2019, writing "this theme focuses especially on the twentieth century through today. Beginning in the early decades of the twentieth century, African American migration patterns included relocation from southern farms to southern cities; from the South to the Northeast, Midwest, and West; from the Caribbean to US cities as well as to migrant labor farms; and the immigration of noted African Americans to Africa and to European cities, such as Paris and London, after the end of World War I and World War II. "
In various community meetings, residents have requested safety improvements and sought updated infrastructure. Efforts have been underway to deliver. The California Transportation Commission has been instrumental in securing this funding which is on track to be available this later this year while infrastructure plans, and environmental clearance are underway.
California is a melting pot of people groups, and our region has a long history with African American people. Stockton is the birthplace of Moses Rodgers, who was born a slave and came to California during the Gold Rush, where he became an expert in mining, purchasing several mines in Mariposa County where he was politically active.
In Southern California, the Dunbar Hotel (also known as Hotel Somerville) located in Los Angeles has hosted many important meetings for the National Association for the Advancement of Color People (NAACP) and has been the venue for several noteworthy jazz legends: Louis Armstrong, Dizzie Gelespie, Lena Horn, and Ray Charles.
From coast to coast America is full of hallowed grounds where the imprints of African Americans resonate leaving a legacy of important work imprinted on our past. These sites act as a reminder of the many challenges African Americans have endured and the many contributions that have been made.
This February, the Stanislaus County Board of Supervisors does proclaim February 2019 as Black History Month and urge all citizens, public officials, educators, and librarians to observe this month with appropriate programs, ceremonies, and activities in support of this proclamation.
Read More