PeopleSoft I.T. Division
About Us
Who We Are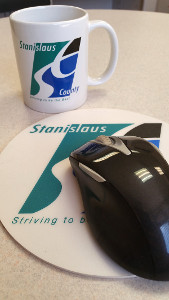 PeopleSoft I.T., as part of the Auditor-Controller's Office, manages the Oracle PeopleSoft System at Stanislaus County. Oracle PeopleSoft is an Enterprise-level, Human Resources Management System (HRMS) that allows for integration of key business functions, such as Human Resources, Payroll, Benefits Administration, Time and Labor, Training and Tracking modules, in a single-access control model.
Many employees enjoy using the Self Service features in Oracle PeopleSoft. These employees have direct access to Personal, Benefits, Payroll and Training information from any computer with Internet access.
Employees can visit the PeopleSoft Self Service page for more information and detailed instructions for various features within Self Service.
What We Do
Maintain Security Administration to the Oracle PeopleSoft System.
Ensure the operational and data integrity of the Oracle PeopleSoft System used by Stanislaus County.
Provide technical support and functional support for the Oracle PeopleSoft System to all employees of Stanislaus County.
Provide technical support for the Auditor-Controller's Office's Internet & Intranet websites.